This section covers missions in GIRLS' FRONTLINE.
Accessed via the Combat tab, this section allows deployment of combat echelons to complete missions under supervision or autonomously.
This page covers missions, tap here for the COMBAT GAMEPLAY guide.
Operations
Edit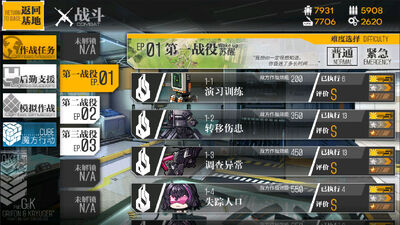 Episode tabs separate storyline arcs.
A mission can be completed as many times as desired.
Battle Modes
Edit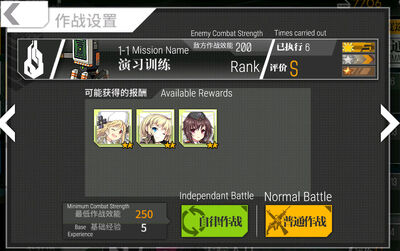 普通作战 (NORMAL BATTLE)
Deployment with player control
自律作战 (AUTONOMOUS BATTLE)
Deployment without player control; Echelons will finish the mission independently.
---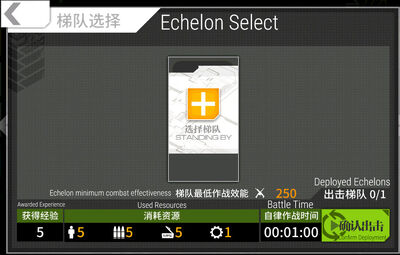 Autonomous Battle
This allows a number of echelons to be deployed independently on a combat mission.
Autonomous battle has a fixed resource usage rate, but also a fixed experience gain rate.
A mission has to be cleared with all 3 medals to unlock this deployment mode.
Pausing & Halting Operations
Edit
Operations in progress can be paused or halted.
Whilst on the Strategic Map, tap 任务选择 (MISSION SELECT) to return to mission select, any ongoing missions will be able to be resumed where left off within an hour.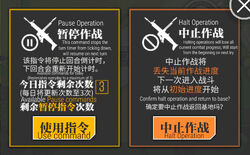 On the top-left bar there is an additional button once a mission is commenced.

Tap it to access two options.
'Pause Order' can be used to pause the turn timer infinitely until the next turn.
'Halt Order' to stop the operation entirely.
Difficulty
Edit
Missions have three difficulty modes.
NORMAL is the default difficulty for missions, and contains the main storyline.
EMERGENCY difficulty is unlocked after clearing all missions in an Episode on NORMAL.
Map layouts are identical to NORMAL but have stronger enemies, better rewards and a different storyline.
MIDNIGHT difficulty missions take place at night as opposed to daytime.
MIDNIGHT difficulty is unlocked after clearing all EMERGENCY difficulty missions of the next Episode. (E.G. Clear EM EP.02 to unlock MIDNIGHT EP.01)
The victory condition is different from NORMAL/EMERGENCY as eliminating all enemy echelons is needed. There is usually no HQ to capture.
Map layouts are different, with night combat mechanics and a different storyline from Normal and EMERGENCY modes.
Armored enemies are present, and there are only equipment drop rewards.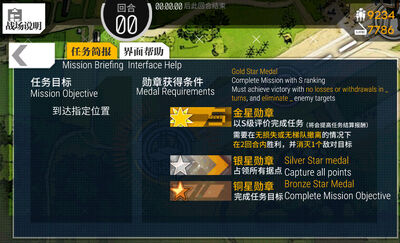 To check Medal ranking requirements, tap this button on the top left of the screen during a mission to bring up the Mission Briefing window

MEDAL REQUIREMENTS
RANKING
NAME
ACQUIREMENT
金星勋章

(GOLD STAR MEDAL)

Achieved by clearing the mission and meeting two conditions.





Achieving victory in a set amount of turns


(消灭_个敌对目标・Eliminate _ enemy targets)


Eliminating a set amount of enemy echelons

银星勋章

(SILVER STAR MEDAL)

Achieved by capturing all nodes on a map.
铜星勋章

(BRONZE STAR MEDAL)

Achieved by completing the mission.
Mission End Ranking
Edit
This shows a summary of operational performance when a mission ends via victory or defeat.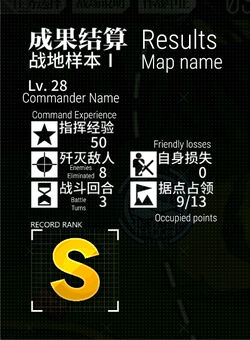 指挥官经验(Commander Experience)
Total commander experience gained.
歼灭敌人 (Enemies Eliminated)
Total enemy echelons eliminated.
战斗回合 (Battle Turns)
Total turns taken to complete mission.
自身损失 (Friendly Losses)
Total friendly T-Dolls rendered combat incapable. (0 HP)
据点占领 (Occupied Points)